Urban Railways for Tomorrow-Planning, Construction and Operation-(KISS-RAIL2.0)
In recent years, the construction of urban railways has become popular in major cities in developing countries around the world. This book introduces know-how in all stages of urban railway planning, construction, and operation, reflecting the experience of participating in these projects. This book covers extensive contents that require a wide range of insights. Accordingly, it was created under the editorial committee consisting of members from universities, relevant ministries, and railway companies, headed by Professor Hitoshi IEDA of National Graduate Institute for Policy Studies.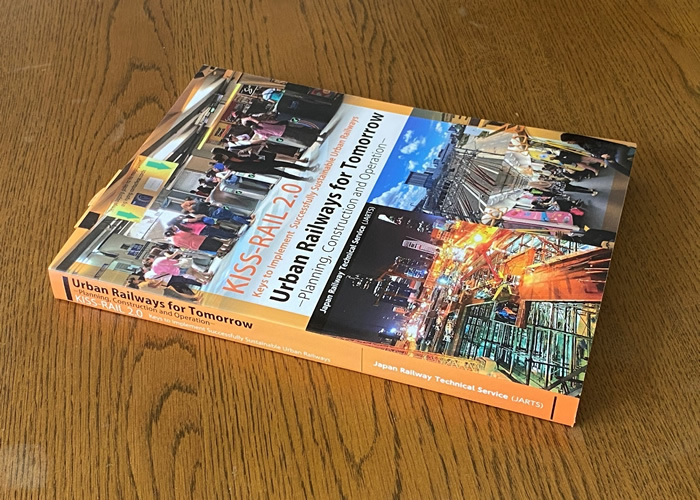 Each of the railway technologies is not so difficult itself. However, since the railway consists of various technologies such as vehicles, tracks, civil structures, electric power, and signals, the interface between each component is complicated. For this reason, there are pitfalls in unexpected places. In other words, it is a world where experience plays a big role.
This book makes it easy to read these contents with a wealth of examples, color photographs, and columns by various contributors. As the subtitle KISS-RAIL (Keys to Implement Successfully Sustainable Urban RAILways) of this book presents, this book aims at the successful operation of constructed urban railways. This book would be recommended to those involved in urban railway projects in the countries where urban railways are to be constructed for the first time and those who already have urban railways but face various problems and are looking for a solution. (Pages;347, Size;182×257mm) You can purchase this book at AMAZON Japan. Visit the following URL.
https://www.amazon.co.jp/Urban-Railways-Tomorrow-planning-Construction-Operation/dp/4324801037/
Table of Contents
Main text
| | |
| --- | --- |
| Prologue | Why KISS-RAIL2.0 now? |
| Ⅰ. | Basic Requirements for Sucessful Urban Railways |
| Ⅱ. | From Project Planning to the Commencement of Construction |
| Ⅲ. | Project Evaluation |
| Ⅳ. | Urban Railway System Planning and Design |
| Ⅴ. | Procurement of Funds and Financial Arrangements |
| Ⅵ. | Planning of Business Organization and Management System |
| Ⅶ. | Coordination with Regional Development |
| Ⅷ. | Measures to Secure Seamless and Integrated Transportation |
| Ⅸ. | Construction |
| Ⅹ. | Sustainable Operation |
| Ⅺ. | Measures for Increasing Profit |
| Epilogue | Urban Railways for Tomorrow |
Appendix
| | |
| --- | --- |
| Ⅰ. | Birth and Development of Subway Systems in Japan and the World |
| Ⅱ. | Current Status of Urban Railway Development in Major Cities in Asia |
| Ⅲ. | Ⅲ. Urban Railways in the World and their Ownership |
| Ⅳ. | Operational Form of Railways in Major Overseas Cities and the Public Subsidies for Their Development and Operation |
| Ⅴ. | Government Related Financing by Japan ODA, JIBC, etc. |
| Ⅵ. | Development of TOD in Japan |
| Ⅶ. | Risk Analysis of PPP Urban Railway Projects in Asia |
| Ⅷ. | Efforts in Developing Affiliated Businesses of Major Private Railways in Japan |
| Ⅸ. | Tokyo Metro General Training Center |
| Ⅹ. | Formulation of New Specifications for Overseas Standard Rolling Stock |